The Black & Beautiful in Britain series was produced in partnership with Yahoo
---
Bonita Ngonyani first came to Scotland from Tanzania in 2011 to study Business and French at the University of Stirling in central Scotland. Immediately, she struggled to find hair products, salons, and people to do her hair.
"[Back then] you couldn't rely on a quick Google search, you had to know someone to direct you about where to go."
Finding someone with the 'know' is difficult, especially in a smaller city like Stirling. This has always been a challenge in Scotland, with Black communities spread throughout the country, and ten years ago, these communities were mostly visible and present in the larger cities of Edinburgh and Glasgow.
Hair care was also expensive, Bonita explains, especially coming from Tanzania and "as a student your focus is just partying and enjoying life, so going to Glasgow just to do your hair – it was a bit of a mission."
Instead, Bonita and her flatmate from Namibia – the two had known each other from home – would watch YouTube videos. The 2000s saw the rise of the natural hair blogger and with it, the opportunity for Black women across America and the UK to share and learn from each other the DIY hair care methods that they had been using at home for years. They would try things out in their flat Bonita recounts, figuring out what products and methods did and did not work for them and their hair.
How do we navigate building something for ourselves, whilst helping our communities both here, and at home?
After finishing her degree, Bonita returned to Tanzania, but in 2017 both she and her old flatmate found themselves back in Scotland. This time they were in Edinburgh where Bonita was studying a Masters in International Finance and Economic Development.
Although now in a bigger city, they found themselves with the same problems when it came to being able to care for their hair. With access to some university support, they decided it was time to use their frustration and turn it into something positive. Rebel Roots was born, with the decision to add CBD as an ingredient.
"[Back then] it was quite a new thing in terms of wellbeing, and there's not a lot of products, or black products, that have hemp. No one was really putting CBD in hair products, so why don't we differentiate ourselves by trying it?" Bonita says. Regarding the name: 'Roots' to honour where they had both come from, and of course, hair. 'Rebel' is a tribute to the rebelliousness of the ingredient CBD.
"There's so much you can do with CBD as a product, because it's still quite new," Bonita continues. "That also means the target market for many of these products is a white Eurocentric one. It's also a very under researched area, and so we need more research into what this product can do for black people and our skin."
Once they had a product and brand, it proved to be hard to sell. They would take their product to the salons and shops around the city that did sell afro hair and African products.
"We were just some random people walking into their store, trying to sell them something that wasn't recognisable." When you consider being a black business in Scotland and how careful you must be when marketing any CBD products, the negative response makes sense. But where Rebel Roots did find success was at a farmers' market.
"Here, people were very, very curious about [Rebel Roots] and there emerged a general community here in Edinburgh that were interested in what CBD was and they could benefit from it."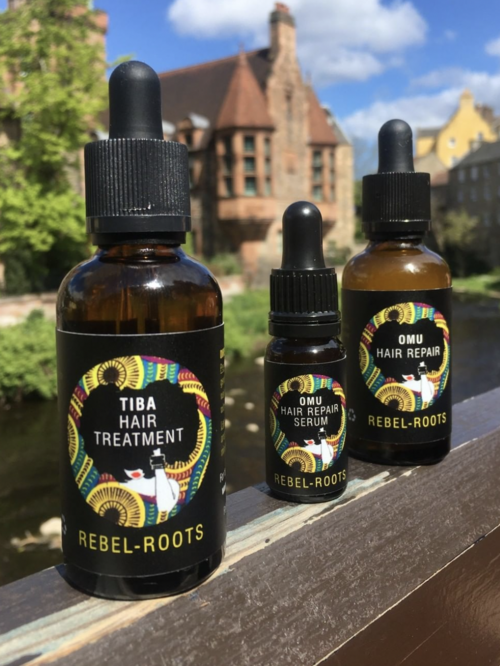 They started to find that a lot of men – and not necessarily African men – who had issues with hair loss were buying Rebel Roots products. This wasn't the original market for Rebel Roots, and while this demographic is a consideration for the brand, Rebel Roots' primary focus is always going to be black communities and black and afro-hair.
Over the pandemic Bonita collaborated with a fashion designer based in Ayr to sell printed masks and headbands through their online shop. She has been thinking about how Rebel Roots can grow into becoming a network for other black and African people in Scotland and the rest of the UK making and creating products.
More recently, Bonita founded HerCBD, producing natural, sustainable and organic alternatives for women's wellbeing. HerCBD is about the overall well being of the body and the profits are used intentionally, some of which go to different women's organisations in the UK and Africa doing work around endometriosis. Bonita hopes to continue providing donations and erasing the stigma around menstruation and women's health.
For Bonita, owning and running two businesses has not been without its ups and downs, especially during the pandemic, but she is still grateful. The foundations of HerCBD and Rebel Roots reflect the experiences of black women in Britain and many in the black diaspora. How do we navigate building something for ourselves, whilst helping our communities both here, and at home? Even when it feels and appears as if the odds are stacked against you, it is possible to create a successful black women owned business in the UK, while staying true to the countries and cultures that made you.
More stories from black women in Scotland