The Black & Beautiful in Britain series was produced in partnership with Yahoo
---
For most of my life, I'd always seen big cities as synonymous with "good hair". Not "good hair" in the texturist sense, but in terms of possibility. In the years I'd spent scrolling through YouTube, and when the platform of choice eventually changed to Instagram, it was places like London that I'd assumed stylists could set, roll, curl and straighten hair in any possible ways with ease, bolstered by a concentrated black population eager to work with new styles.
The North West's black population is comparatively smaller – well, not completely, but at least my corner was. Coming from a small town-in-between-towns, a lack of local black population meant that we didn't have a black hair industry, bar one beauty supply store which opened in my late teens (unfortunately closing after about a month).
My family and I had to make over hour-long travels to places like Manchester or Liverpool to visit stylists sourced by friends. Despite the time taken to travel it tended to be a fairly low-stakes affair; more times than not the stylist would be a friend of a friend, or even a relative of a friend, working for some quick cash out of someone's house or back room in the private, intimate spaces usually reserved for close friends and family.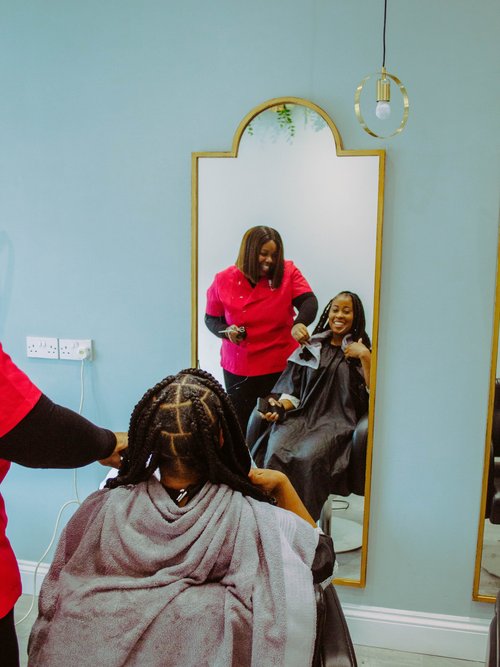 As a child I would attend a family friend's house in Toxteth to get my box braids done, making trips to and from Liverpool every couple of months to get the style installed. One of my earliest braiders was a girl who would come with her young son, introduced to us by the homeowners. It was an event I always associated with frustration, though. I hated being made to separate the X-pressions bit-by-bit, only finishing when my fed-up sighs indicated that the braider should make the three remaining braids into two sections and allow me to go and play with my friends.
But with the many hours already taken to do the style, the distance involved to get there meant it made sense to turn it into a social activity. Aunties (not by blood, but by nature) would sit chatting in the kitchen where I'd be perched awkwardly on a dining chair, the smell of fried fish in the air and leftover jollof reheating in the microwave. Then there was the recurring soundtrack; a plethora of familiar sounding languages I couldn't understand, bits of Idoma and Igbo I would hear as my parents chatted with the homeowners, briefing them on life events and developments.
Growing older the styles and stylists would change as I graduated to sew-in weaves in an attempt to seem "more grown", but I noticed the relationships remained the same. My next stylist who installed my first weave was Nigerian too, and an unsaid kinship was palpable. Greeting my parents would routinely be followed by innocuous discussions about either parties' social calendar, often delving into topics that black people countrywide might relate to in some form or fashion; their religion and where they went to church, the welfare of extended family living back in West Africa, how the stylist learnt her skills – all information she granted freely.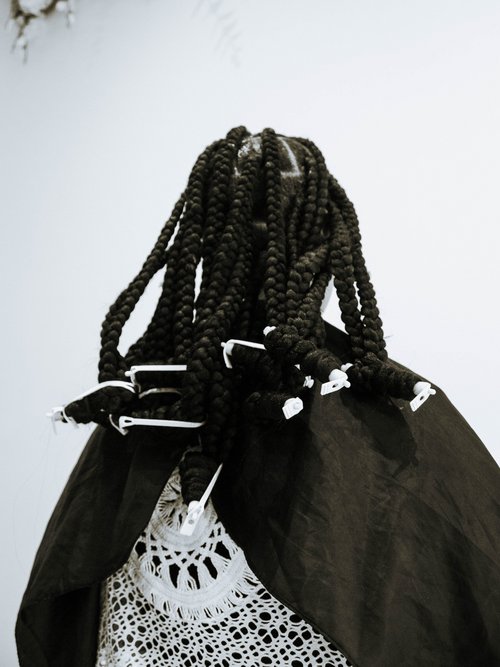 As I look back, the styles weren't always great and old photos often make me cringe heavily, and I no longer patronise those previous stylists. Similarly, the black hairstyling scene in the North West itself is also different now; there are more options, a growing number of styles available, with stylists learned in techniques to rival their counterparts in the south. But what hasn't changed is its sense of importance for black women locally, and how hairstyling as a practice continues to build community.
In discussions online and discourse on black women and our hair, there's much emphasis on black hair as being political. But there's much less so on its nature to bring people together, and on styling as a social, communal activity for black women. In spaces like the North West where there isn't always the highest concentration of clients available, most of the stylists I know of in the area are often endlessly booked up by clients who relish their presence in spaces where we are few. Many of whom still travel for miles in the way that I did, hungry for these services run by women that are for us, and by us.
Years later, when I have now moved out of Liverpool and no longer visit my old weave stylist to get my hair done, we have a chance encounter in the street when I am passing through the city. She recognises me instantly, and I meet her infant son who wasn't born back when I was part of her clientele. It's an encounter that would have never happened if I'd spent my life having my hair styled at Toni & Guy. In the moment, I am reminded of how familiar she looks to one of my aunties, this one related by blood. It reminds me that for black women, hair styling is almost always communal.
More stories from black women in the north west