Black Ballad has teamed up with Hayu – the first and only all-reality streaming service – for a special, FREE event just for our Black Ballad members. We are thrilled to invite you to an evening of cocktails, canapés, and an exclusive preview screening of Hayu's hotly anticipated reality spin-off series Summer House: Martha's Vineyard.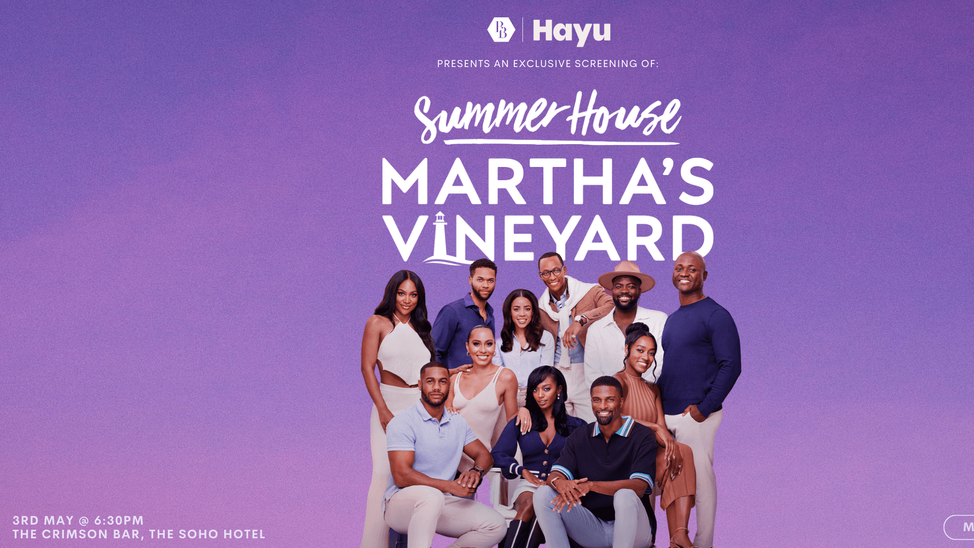 Summer House: Martha's Vineyard follows a group of 12 friends as they enjoy their island getaway to Martha's Vineyard. With beach parties, decadent dinners, and summer hook-ups, both fun and drama are in store for these young Black professionals and entrepreneurs.
While this is an exclusive members only and media event, you will have the opportunity to bring a plus 1 if you want - it can be a friend, sister or anyone who loves drama! We love joy at Black Ballad, so if you're a proud reality TV addict… an evening of friends, drinks & canapés is the perfect night out!
The show launches exclusively on Hayu in the UK on 8 May, the same day as the USA. Tickets are limited, so make sure you don't miss out on your chance to see it first & book your pair of tickets. We can't wait to see you there!
---
Date: 3rd May
Time: 6.30 - 8 PM
Location: The Crimson Bar at The Soho Hotel, 4 Richmond Mews, London, W1D 3DH
This is a free event exclusively for Black Ballad members and their plus ones. Please note that being a Black Ballad member does not guarantee you a ticket. Tickets will be available on a first come, first serve basis. Let us know if you cannot attend by 2nd May so we can allocate your ticket to another member.
Unfortunately, this BB Perk has ended. Visit Black Ballad Perks for up-to-date information about our current perks.
How Do I Get BB Perks?
Become a Black Ballad Member and get exclusive access to free products, events, experiences and more that help black women live their best lives