If there is one thing we all need more of, it's time. It's one of the reasons why for many black women, the words "wash day" are quickly followed by thoughts of how time-consuming this will be.
That is why for our next BB Members Perk, we're excited to give 200 Black women the entire care system from Wakati, for free!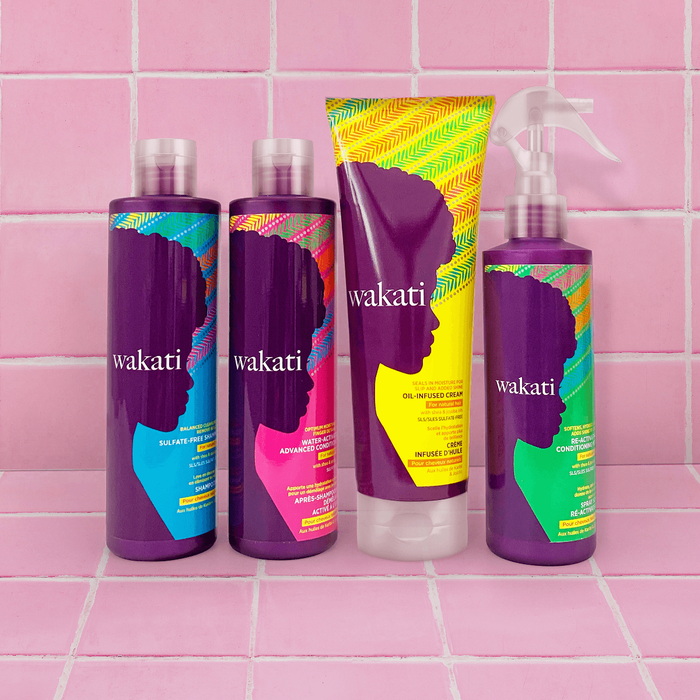 Wakati, which means time in Swahili, launched in the US in 2018, created a suite of products that allow black women to finger-detangle their hair easier and faster. Using their water-activated technology, they wanted to help Black women spend less time washing their hair and more time enjoying their kinks, curls, and coils
The brand launched in the UK last year and already has BBApproved status. Not only do the products smell great and leave our hair feeling refreshed and rejuvenated, but it really has been the end of 3+ hour wash days for those of us that have used it.
With everything life is throwing at us at the moment, Black women shouldn't have to pay the cost of marathon wash days in order to keep their hair happy and healthy. That's why Black Ballad is working with Wakati to give BB Members the opportunity to receive & review the hair brands' entire collection of products.
Black Ballad is looking for 200 black women who:
👩🏿‍🦱 Will be able to use Wakati's Sulphate-Free Shampoo, Water-Activated Advanced Conditioner, Oil-Infused Cream, and Re-Activating Conditioning Mist before 5th March
👩🏾‍🦱 Can leave an honest review on Wakati's Website by 12th March
---
We will give BB members the opportunity to sign up for the full suite of Wakati Hair products on 2nd February at 9pm.
Please note that being a Black Ballad member does not guarantee you free Wakati Hair products. If more than 200 BB Members sign up, we will create a waitlist for any more future openings
Unfortunately, this BB Perk has ended. Visit Black Ballad Perks for up-to-date information about our current perks.
How Do I Get BB Perks?
Become a Black Ballad Member and get exclusive access to free products, events, experiences and more that help black women live their best lives