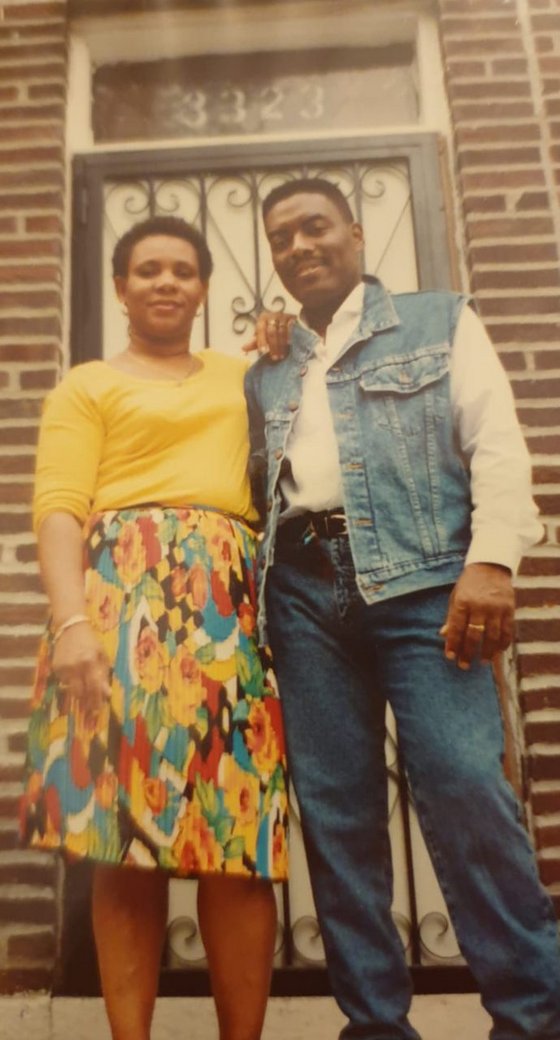 Nancy, a Jamaican woman aged 73, met her husband Vernon, 75, a Jamaican bus driver who she's been married to for 40 years on the way to work. Though they ended up sharing a lifetime together, arranging their first date wasn't easy.
"I was coming from work and I was on the bus behind his. I knew the conductor on his bus so I went and changed buses to go and talk to him, and then Vernon was introduced to me.
"My spirit just tek him there and then. I think I fell in love with him from the minute I saw him," she says.
After that initial meeting, Nancy "thought [Vernon] was married, so I asked my friend who worked in the bus garage and knew him to get some information about him. Once I found out he wasn't married I kept leaving notes on his car but he wouldn't reply to me."
When things eventually fell into place, it was an invitation to Nancy's party in Thornton Heath, London, in 1979 that did the trick.
"I was having a housewarming party, I'd just bought a house on Colvin Road, so I left a note on his car inviting him to it." When the day came, Nancy waited "with one eye open", half expecting Vernon to be a no-show. Not this time.
"He turned up, he came. And you know, I think we were both smitten from then," she adds.
When Nancy greeted Vernon, she was wearing a white, fringe dress, à la Tina Turner.
"When you move, it shake," she adds, while Vernon mumbles in the background.
A man of few words who declined to be interviewed directly, Vernon chimes in throughout our chat, completing some of Nancy's sentences, or lending help when a date or a name of a venue escapes her.
"He just talking about 'I used to wear that dress everywhere'," she says, adding: "I loved it. I was very slim at the time so, you know, it sat nicely."
I ask Nancy if she turned a lot of heads, to which she modestly responds, "Possible, possible. I don't know. There was only one I was interested in.
"He used to pick me up every Friday night and take me to, um – what's the name of the club?"
"The Hilltop", Vernon answers.
"Yes, Hilltop Club in Kent, Maidstone."
But what makes their relationship work to this day?
"We're both miserable," says Nancy, cackling, before becoming more sincere.
"No, you just tolerate each other, I suppose. And be independent of each other. Not, I'm trying to tie you down or you're trying to tie me down. No, no. You have to trust each other, you know?"