The article was part of a series produced in partnership with Yahoo! Style UK
---
The transcendent nature of innovation within black fashion is one that has spanned decades. Nevertheless, within fashion – an industry built on dynamism and creative cache – when it comes to the amplification of boundary-pushing black designers, fashion has been far from receptive.
According to a recent report compiled by the New York Times, titled "Black Representation In Fashion", there is still only one black chief executive, Virgil Abloh at Off-White, working across one of the 64 global fashion brands included in the States and here in the UK. Within the arts – according to a "Panic! Social Class, Taste And Inequalities In The Creative Industries" report – there is currently only 4.8 per cent BAME (Black, Asian and Minority Ethnic) representation across in fashion and visual arts, a reality that has been pacified by an increase in black representation on glossy magazine covers. It appears that the June 2020-inspired spike in black-led articles featuring on the feeds within fashion publishing, have done little to dismantle the creative world's racial ceilings. In fact, this tentative inclusion has shone an even greater light on fashion's lack of acknowledgment for the historical importance of black culture, talent and its monumental influence on fashion today.
The inclusion of technology within fashion, is beginning to help to amplify black fashion.
Now, in response to years of underrepresentation, black designers are beginning to build a tech first atelier of their own. New school innovators like US-based Congolese designer Anifa Mvuemba, have been central to a current wave of black fashion creatives moving away from traditional fashion presentations towards a future that places tech front and centre. Mvuemba's inaugural show was streamed over Instagram Live and featured 3D models against a black backdrop, as if the clothing was worn by invisible models strutting across a catwalk. It was a fashion-tech first. Since Hanifa's debut, the designer has continued to leverage technology and social media within her direct-to-consumer business in order to generate $1 million in revenue, with the release of styles now worn by the likes of Lizzo and Kelly Rowland.
This made-for-digital consumption approach to fashion has also been a major driver behind the success of Liberian-American designer Telfar Clemens. Founded in 2005, the eponymous, genderless fashion brand, also became a pandemic fashion success story. Now through the launch of Telfar TV and it's Slow Fashion Format, the brand is providing the blueprint for the use of technology in mending of one of fashion's biggest crisis – sustainability.
The smashing of old fashion systems might now be part and parcel within many black designer's cutting room floors, but when looking at funding for fashion-tech businesses (whether an e-commerce or a Software-as-a-Service solution) it still remains disproportionately harder for black fashion start-ups to raise capital. In a Rate My Investor study that tracked venture-backed deals between 2013 and 2017, research found that across all sectors, only 1% of VC dollars went to Black entrepreneurs, compared to 77% for white entrepreneurs. So despite the uptick in black designers using technology to help shape the future of fashion, the tech funding world has yet to adapt. It is a gap that angel investor networks like UK-based Cornerstone Partners and Microsoft – with its 'Future Of Fashion' incubator for students at the London College of Fashion – are only beginning to scratch the surface of.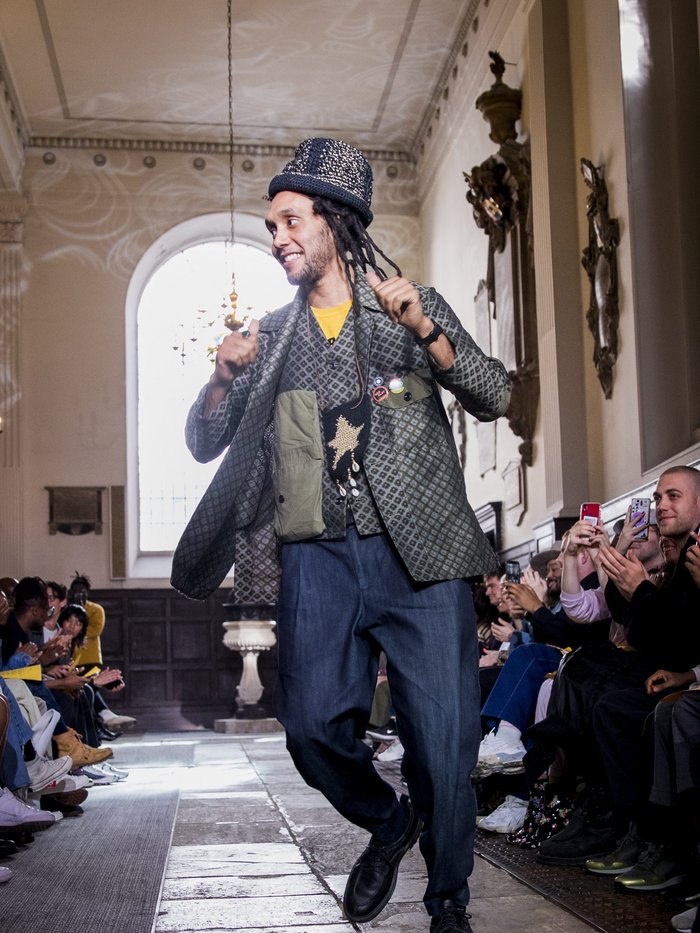 Despite this mixed state of affairs, within the industry at large, black British fashion tastemakers are still harnessing technology within fashion space. Take, Urenna Okonkwo, the founder of Cashmere, a fashion fintech app. Founded in 2018, the app works as a social saving platform that helps label-obsessed young shoppers to save towards and purchase designer pieces without having to turn to credit cards or pay-later services. Since the app's launch the entrepreneur has gone on raising more than £100,000 in angel investment.
Alongside creation of fashion fintech apps, technology's impact on British fashion has also begun to be felt off screen and on the catwalk. Earlier, this year thanks to Covid 19's mandated 'great pause', London Fashion Week hosted its first digital-only event. The move opened up room for homegrown designers like Nicholas Daley to explore a skilful disruption of fashion gone by, with a hybrid approach to showcasing. In the absence of a physical catwalk, the Tottenham-based designer unveiled an accompanying film to his spring/summer 2021 collection, Stepping Razor – which takes its name from Peter Tosh's 1977 debut single.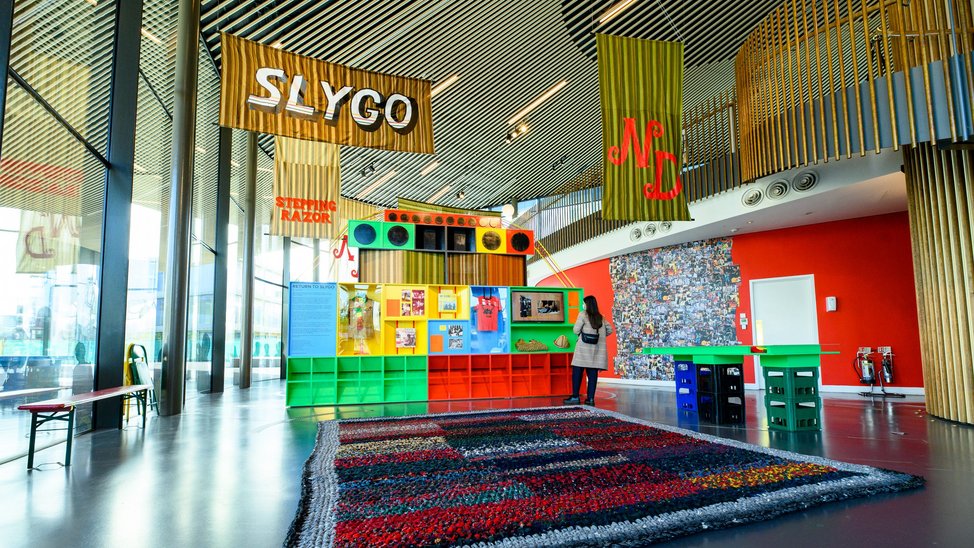 The short film was a celebration of cross-cultural, combative influences within the collection and paid homage to Rastafarian musician and martial arts enthusiast Peter Tosh with a lookbook of karate-inspired silhouettes. The designers' Return to Slygo exhibition followed a similar formula, with demonstrations of diasporic influences present throughout its colourful, multi-sensory showcase. As a nod to Daley's fine tailoring reputation and an ode to beautiful woven fabrics, the exhibitions sported floor covered in bespoke woven carpets, backdropped by a moodboard of different images of key archive imagery, family photos and iconic reggae club t-shirts.
Paying homage to heritage via fashion is far from a new phenome, but the blending of culture in order throughout this multimedia offering, is yet another example of how the inclusion of technology within fashion, is beginning to help to amplify black fashion. Black designers have historically coloured outside of fashion's approved lines, but armed with technology, black fashion innovation now appears almost limitless.
---
Header image from Getty Images
More stories about fashion from Black Ballad