This article was produced in paid partnership with PUMA.
---
I remember when I first asked my mentor to mentor me. She said two things - I'll give you a year and you need me, so remember if you don't keep in touch then the relationship won't be fruitful. I think that was about five years ago and to this day I can WhatsApp her, email her, call her and before lockdown we used to still meet up and she would help me think through decisions when it came to Black Ballad.
Yet, the moment I was most grateful for my mentor was when Black Ballad got hacked. Those of you that have been with us from the beginning may remember when we got hacked in 2017. I cried that night. I cried uncontrollably and cried in a way where my body felt that it had been set on fire. I called my mentor and I can never forget what she said, she said cry it out. I cried it out before speaking and then we discussed a plan of action.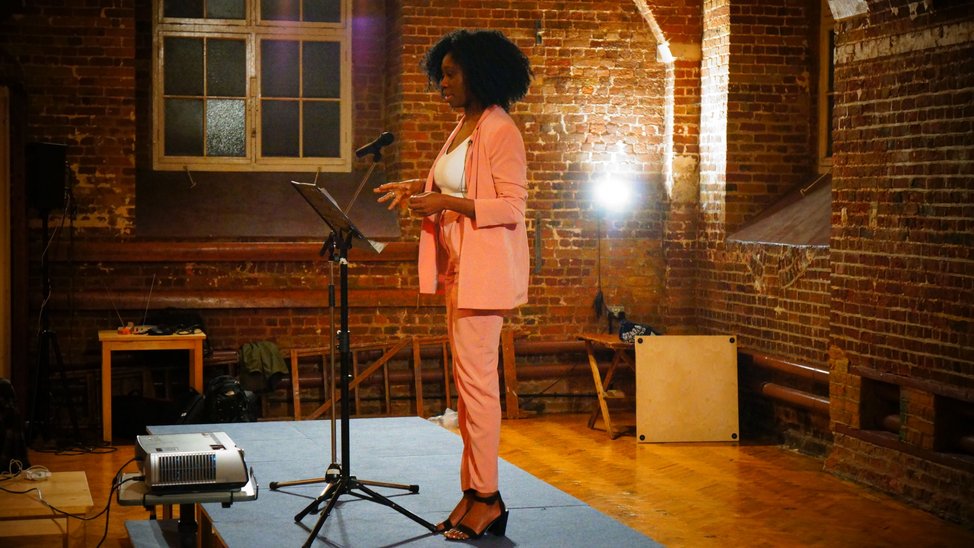 There is something so special about being nurtured by another woman. They know the pitfalls of sexism you experience everyday and understand because they have been there. While I am lucky enough to have female mentors of different races, it has always been important to make sure myself and my career is nurtured by Black women (yes, the mentor I was talking about was a Black woman.) There is always less explaining you have to do and most times when you are talking about an experience that has stemmed from both racism and sexism - they get it. You don't need to relive the experience or the trauma, because they have been there, got the t-shirt and the jumper. They share their experience on how to deal with the situation and you automatically feel a little lighter. You feel lighter because you know you are speaking to someone who knows and understands the significance of triumphing in your career as a Black woman, but also knows opportunities aren't given to you based on how you look, rather than your talents.
A good mentorship relationship is one that is in flux. It changes and adapts according to the needs and wants of the mentee. It isn't rigid, but there needs to be structure. A good mentorship relationship is a support system that gives you the confidence to take risks in order to win big, be comfortable making uncomfortable decisions and most importantly, helps you develop a skill that too few of us have - trusting your gut. Mentorship between Black women, despite both women being at different points in their career, can turn into sisterhoods. Mentor and mentee relationships between Black women (and I'm aware not all work out) can become deep bonds because often Black female mentors want their Black female mentees to not just win, but to ensure we break that pattern of having one Black women in the room.
As someone who has been fortunate enough to be mentored by a Black women in my business, with the relationship having changed over time in the best way possible, I am always looking for ways in which I can mentor others. It is something I have had to consider deeply and in the past, I have said no due to not having enough time, but there is never a perfect time to do anything. I have benefitted from being nurtured by a Black woman in business so now, I want to pay it forward to another Black woman at the start of her business journey. I want to see if I can help another Black woman think through big decisions and come to a conclusion where she has complete and utter faith in herself. It is because of this desire to pay it forward I'm so proud to announce Black Ballad's Future Founders partnership with PUMA, which will be part of PUMA's wider campaign She Moves Us. She Moves Us is a global campaign by PUMA with the aim of inspiring women to move together to connect and achieve their wildest dreams. PUMA will be supporting me and two other Black women (one is the baddest babe in the beauty game and the other is leading the way in doing what many aren't - putting her money in Black female founders) in mentoring three Black women between 18-25 year olds with business ideas for three months.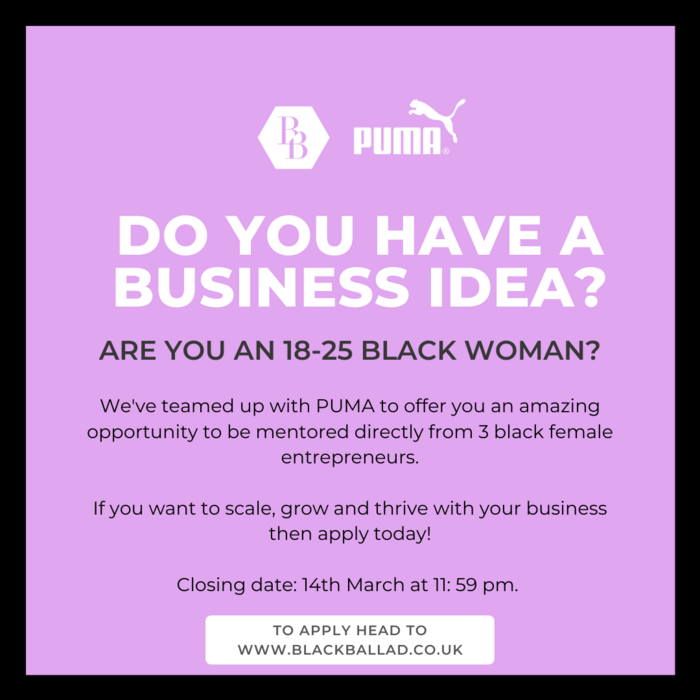 We want to guide them as they come up with plans to reach millions of customers, we don't want them to feel lonely as they navigate the world of being an entrepreneur and we don't want to see the same handful of Black women in this world of entrepreneurship. Our partnership with PUMA I hope is just the beginning in Black Ballad helping Black women chase their dreams and form sisterhoods that make them feel like there are no limits to what they can achieve. It is what I have felt by being mentored by a Black woman, so if I can pass that on, then once again I'll feel blessed to do what I do.
---
To enter the 18-25 year old PUMA x Black Ballad Future Founders mentoring programme please click the button below.
You'll be asked to provide a few details about yourself and your business, including submitting a 90 second pitch video.