Sometimes, part of the problem I have when writing the newsletter is that often on a Sunday, I spend way too much time procrastinating and at times worrying about what to say. I get concerned if the tone is right, or if the subject is right for an end of the week, or for some, the start of the week newsletter. I go back and forth deleting and retyping the beginning of these letters, before hitting my stride about midway through. I guess that is why some us of describe the writing process as tumultuous. It can feel disorderly and anxiety-inducing, especially when you need to write or want to write something that feels important. And for some reason, (a good reason) I feel more under pressure writing this newsletter than the hundreds I have written over the last four years.
If you have been following Black Ballad's journey or even me on social media, you'll know that we are in the final days of our equity crowdfunding campaign. This isn't the first crowdfund Black Ballad has done. Some of you may remember that we ran a crowdfund back in 2016 to transition into the platform that we are today. I remember when we met our target, I said to my husband I am never doing another crowdfund again (insert giggles, because here we are again.)
Here we are, doing another crowdfund, but this time the dynamics are different and a little bit more (maybe a lot more) feels at risk. When we did the 2016 crowdfund, I had no idea what I was doing, I just knew that representation was important for black women and that I needed a way to pay black women and creatives for their time and talents.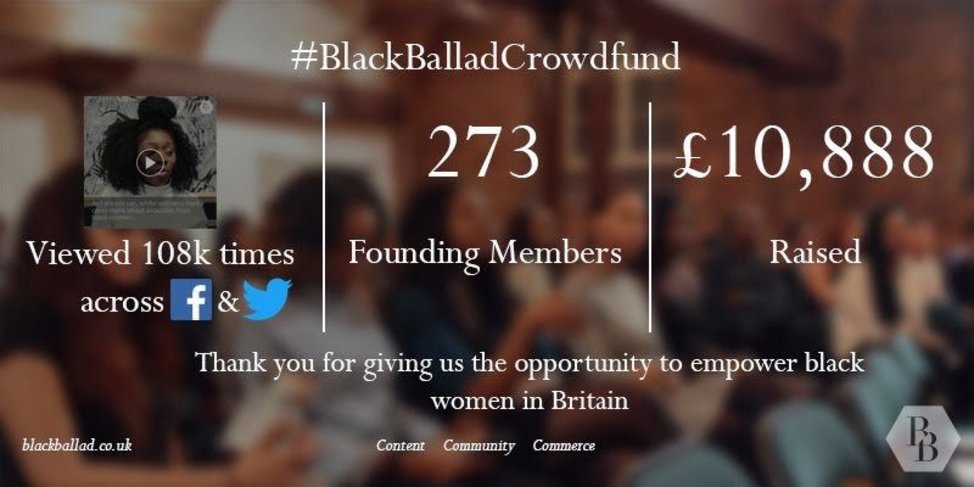 However, with this crowdfund I know what I am doing and I am certain of my ability, my vision and my team. I would never try to raise as much money as we are trying to if I wasn't. In the run-up to this crowdfund, asking the community to be part of this journey with us, made me feel a little nervous because Black Ballad owes everything to this community. Yet, while doing this crowdfund something I wanted to make clear, that I want to stress, is that this is about ownership. This is about giving this community, especially black women who are the heartbeat and focus of Black Ballad, the chance to own shares in a company that works for them day in and day out.
So often many people (looking at the mainstream of course) have turned our companies, our businesses and our ideas into charitable efforts with little ambition and that language has filtered its way down into how we talk about the businesses that put our community first and employ each other. Now, there is nothing wrong with charity and we know the consequences of capitalism falls hardest on black women. I know that some people see this as a donation (please note, I understand this isn't out of maliciousness) but I want you, black women to see this as an investment and as I said earlier, ownership.
It's important that we change this language so we become more comfortable with the vision that Black Ballad has and understand that our driving forces come down to building a company that has an office full of black women and people who can bring their whole selves to work. That Black women who pay for their membership expect the very best from us and hold us accountable and in high expectation for the content we create, the events we organise and any other services we offer. That you know that this money is to build a company that goes beyond us, that you have invested in a company that despite existing in structures of patriarchy and racism, we have built something as a community that had longevity and will help financially support black women through employment and hold mass media and other systems to account.
We know that if we don't build this company and others, no one else will. It is not in the interests of society to have a company like Black Ballad be financially independent and owned by this community. To have a company like Black Ballad that isn't motivated by the white gaze, but driven to by the well being of black community. We need want to ensure that everyone from students to health professionals have appropriate data about this community, so our stories are supported by numbers and we have evidence for when we as a demographic have been mistreated by this society. I'm sick of talking to organisations and asking them to do better, only for retorts to be individual stories don't prove there is a systematic problem. It is not in the interest of society that we have content that doesn't fit their agenda, or provide spaces that allows us to socialise, work and more.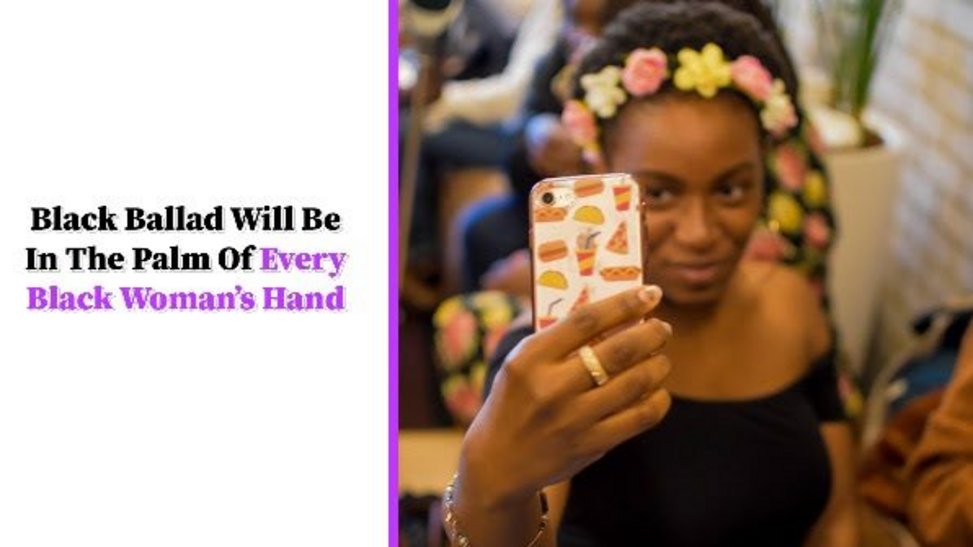 However, this company will only come to fruition if we own it. This company and business will only have values that put black women first if we own it. We must start seeing power in ownership and using that language. We must call this financial support to Black Ballad what is, an investment, not a donation. That will remind all of us that we have built an independent media and data company that will outlast many others and no doubt hold existing ones to account.
My hope is that next Sunday, the newsletter I write is one where I am able to say that this community, led by Black women, collectively invested at least £250,000 into a company that was supposed to fail at every hurdle. A company that many said would never convince Black women to buy memberships, let alone be our investors. A company where people told me that advertisers wouldn't look twice at us, but has managed to win over clients. A company that has had the door slammed in its face by investors that do and don't look like the founders. While those slammed doors felt tough and at times and nearly reduced me to tears, there is blessing in being unable to raise the full investment amount from investment companies. That blessing is that if we succeed in raising the remaining the final £25,000 in the next six days, I will see hundreds of Black women's names as shareholders and despite the rocky road to get there, it will be truly worth it for that moment alone. It will be a surreal moment because it will be beyond anything I imagined this company could be in 2014 when we started.
So it's all or nothing - we either raise the full £250,000 and give Black Ballad the chance many media companies led by white founders have had, or the money goes back to this community. While I can't predict the outcome next week, what I can do is say I am beyond grateful to everyone, especially black women, that have invested. Yet, the one thing I can guarantee, despite not knowing the outcome is that whatever happens, Black women will always be the driving force for our success.