I didn't know the World Cup was taking place until last week. I walked past a pub and it had England flags and World Cup promotional material in the windows. I'll be honest, I don't really care for football; but there was a point where I did. In primary school, we were assigned football teams in the Premier League and we all had to go home and make a mini report about the team we were assigned. I was given Newcastle United much to the confusion of my father who was a Manchester United fan. I enjoyed the project so much, I became a devoted Newcastle United fan and Alan Shearer Stan for several years.
As I got older and became more intrigued by other things happening in the world, my love of football started to dwindle. However, it wasn't the natural path of growing up that made me lose interest in what is supposed to be the "beautiful game". I remember school assemblies and special talks year in, year out that revolved around the the FA's Show Racism the Red Card initiative. As a kid, a teenager, it felt depressing to listen to white men and one token black man in sportswear tell us how badly some black players had and were currently being treated. That some fans who were black would be given a hard time just for attending matches. Then that was followed by reasons why you shouldn't be racist to your fellow classmate or anyone who wasn't the same skin tone as you. 
It was a pretty piss poor attempt at tackling racism by the Education board if you ask me, but I guess when it's the only attempt to discuss racism in the school system, you take what you can get. Anyways, with the repetitive classes of show racism the red card, you can imagine my infatuation with a game that didn't seem that welcoming to people like myself dwindling fast.
In fact, I am so uninterested in the country's unofficial national sport, I couldn't tell you one English player. It was a running joke between myself and my husband that I didn't know an English football player and then it dawned on me, I did know one player - Sterling. Why? Because thanks to Twitter, I often see articles dragging his name through the mud and black Twitter's attempts to defend a man who seems to be just doing his job.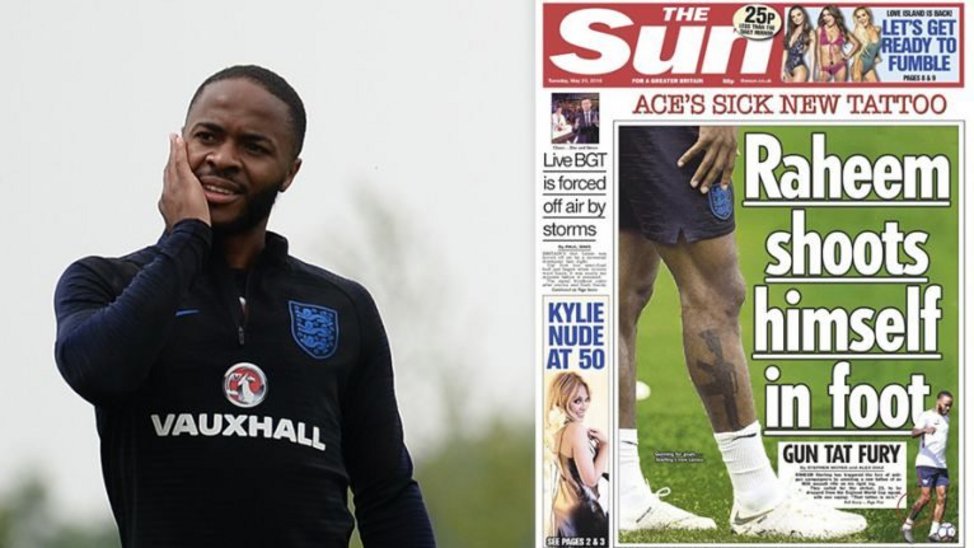 Raheem Sterling came onto my radar this week when I saw that some in the country are asking for him to step down from playing in the World Cup due to the tattoo on his right foot. The question I have is this: Why does this country constantly feel the need to police black bodies? It takes me back to the time when my mother encouraged me to pursue the career of a newsreader. I remember going to an event for budding journalists from a Black and Ethnicity Minority background and a black newsreader looked at my braids and said you won't be able to have that hairstyle if you want to work in news.

The constant tug of war of maintaining your black body as your own when you live in a country that seeks to constantly monitor you is beyond tiring. And without stating the obvious, Sterling's body is his and what he chooses to do with it is, well, actually his business. While I know some will say he is a role model for young boys and girls and we are in a season of violence taking the lives of young men, young black men in particular, I don't believe the concern of Sterling's tattoo is about him being a role model. It is another excuse for a witch hunt by the British media as their racism pours out of every letter printed about the young footballer. It is an excuse to define another black body and in the process put him in this place. Trying to say that a footballer will add fuel to the fire of knife crime is only to continue to turn a blind eye to how our government has neglected the youth and how mass media has continued to demonise them in the minds of the public.

We are constantly bombarded by think pieces and campaigns of how our bodies belong to us and quite rightly so. So when a black man gets a tattoo, why should he lose his job? Of course, I would be lying to say that the tattoo could glamourise the idea of violence in the minds of some, everyone else would be lying if they were to deny that the uproar surrounding Sterling's tattoo isn't about a black man's freedom to do what he wants to do with his body.