Last year, during the nightmare that was the pandemic, I had a dream. It was only fleeting; I was decorated head-to-toe like fine china. My heart was brimming with joy. 'Finally,' I thought. 'I look like how I feel.' 
But then I woke up.
There was no need to check my arms in the dark. I knew they weren't the masterpieces I'd envisaged only seconds ago; the shoddy hydrogen symbol on my left wrist, a permanent reminder of someone's inability to admit, "I'm not sure how to do this."
It had been four years since that tattoo and six since my first. I felt ready to hop back into the world of lavish pain and swift needlework. I told myself I'd wait until the world opened up again and began bookmarking the work of artists I'd long-admired. 
July sauntered along, lockdown eased and I began what I thought would be the fulfilling task of reaching out to some of these artists. My Instagram was brimming with sponsored ads of tattooists with guest spots and temporary residencies in London. The giddiness that came with typing those emails and the compulsory add-ons: "Do you have any experience with dark, keloid-prone skin? Do you have any examples of your healed work on this type of skin?"
There's a whole spectrum of people who want to get tattooed, who are just either getting a substandard service or getting left behind entirely.
The first response, a Barcelonian artist: "I tattooed dark skin already, but don't have any examples sorry." Not even one, huh? Cool… I was just under the impression that most artists document their work. I moved on to the next, a tattooist from Seoul: "My work is all available on my Instagram and Twitter. When do you want to book?" – completely disregarding my question. The third, fourth and fifth were dead ends, too. So, naturally, and like so many, I gave up.
"My last tattoo was eight years ago," says Jannette, 33. "The artist was very fixated on my skin not properly absorbing the ink. He continuously shaded the same area for over an hour. The sensation all down my left side was a pain I'd never felt before – it didn't go away for over a week and the tattoo healed weird. He was a lovely artist, he just wasn't used to tattooing black skin."
Temi, 29, recalls a similar experience that put her off getting future tattoos: "During the session, my arm started swelling because she kept going over it. She said the ink wouldn't take to my skin. It took a year for it to completely heal. The shading isn't great and the parts she went over look very obvious. She had only tattooed a handful of black people, but she seemed confident enough."
And it's that feigned confidence that has left so many dark-skinned folk with subpar work on their skin. But, in the midst of it are those who are deeply informed about their artistry, who don't see melanin-rich skin as an arduous task or something difficult to work with.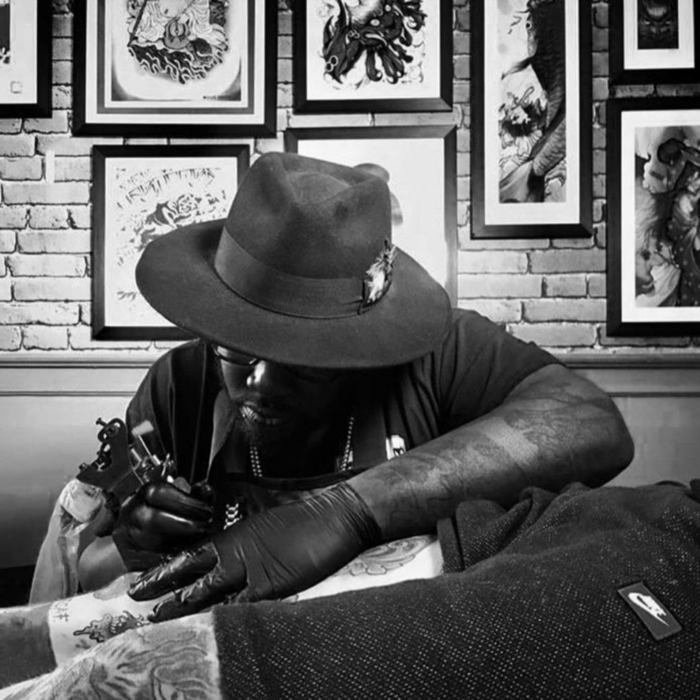 "There are things that you'll see with darker skin more so than lighter skin. For example, with darker skin you're more likely to scar somebody if you don't treat it gently or overwork it…but you shouldn't be doing that on lighter skin, anyway," says London-based tattooist, Lord Montana-Blue who has been tattooing skin for 15 years.
"[Darker skin] isn't better or worse or harder than anything. But white has always been seen as the default, so when it comes to any skin that's not Caucasian skin, it's seen as other. People need to expand their bandwidth and acknowledge that it's a whole spectrum of people who are getting tattooed.
"It's not that our dark skin is different, it's that we need to change our mindset and stop centering white skin as the default tattoo client. Because, I guess if you've been centred in a conversation, and you've been benefiting off the status quo, why would you [change]? Your tattoos could be more interesting if you just expanded your worldview a little bit."
Athalia Johnson, an apprentice at South-East London black-owned tattoo studio, Inkwa Tattoos, has been training in the art for two years.
"Yes, the tattoo industry is predominantly white. But, if you do research, there are people that are willing and are capable. You can get tattooed by a Black artist that understands your skin, that can do whatever design you need. Those shops are there, but some people don't search that deep, because the common shop you do see is most likely white-owned."
Athalia continues: "Black tattoo shops within the industry need to make it more open to the youth. Because there aren't many Black-owned shops that are actually giving the opportunity for Black youth to become an apprentice or tattoo artist. The more that knowledge is passed on, the bigger impact we have within the industry. If it's being selfishly kept to yourself, it's not helping the community."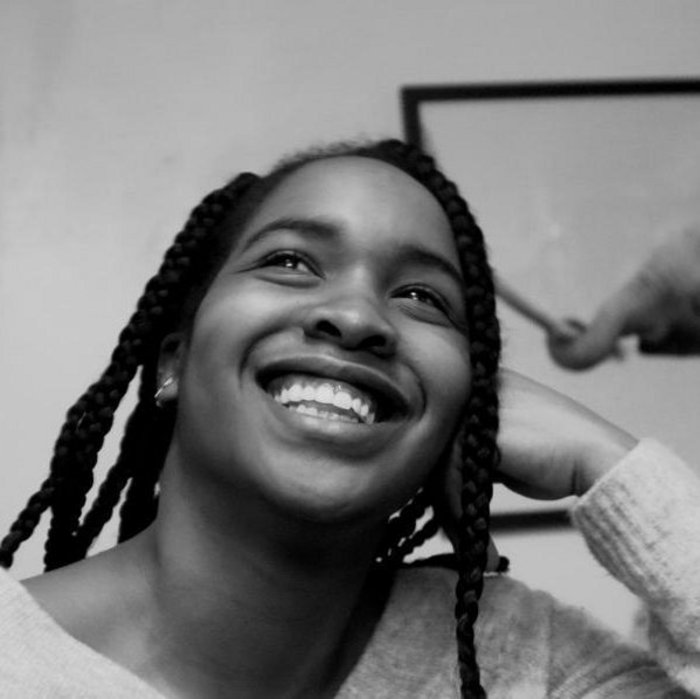 I think back to July, when a new UK regulation was introduced: hairdressers must now learn to style Black, natural hair. I wonder if this could ever work for the tattoo industry. Imagine mindlessly popping into a random tattoo parlour for a flash piece, without dedicating several hours, weeks, months into researching a suitable artist. Better trained artists are more widespread, with a world of skill at the tip of their needle, unashamed to display their art on varying shades of skin proudly plastered across their social media accounts and portfolios; not desaturating black skin to make their pale canvas themed accounts seem "aesthetically pleasing". Imagine that being the norm? There'd be no need to applaud what's already expected.

"We all have to relearn things," says Lord. The artist, who works at North London's Jolie Rouge Tattoo, feels that change is a definite possibility. "We've got to align ourselves with how the world is, not how we've been trained to believe it is. There's just a lack of knowledge within the industry. How are you not curious? How is there a whole gap in your knowledge that you're just happy with? Don't you want to perfect your trade? If you don't know, you've got friends. Or ask a tattooist online. Go ask somebody."
There's no indication that it can't be done and every indication that it's more so a Western problem. Or have we forgotten about the Fulani women of Cameroon, the Tsamai people of Ethiopia or the Makonde tattoos of Mozambique?
Some people think they're prone to keloids when they're not. It's only because they've been tattooed by that one person and now they're traumatised.
Lord reckons there's room for a remodel: "It's not a small problem, but the second word here is problem. It can be fixed. I do care about the tattooists in this industry. They're my friends and my colleagues. However, it's the clients who get left behind. There's a whole spectrum of people who want to get tattooed, who are just either getting a substandard service or getting left behind entirely."
Until change becomes more than just theoretical across the industry, there will always be an air of hesitation from the Black community. But hesitation needn't mean blank black canvases and 'what if's?
"Anyone can be tattooed. Some people think they're prone to keloids when they're not," says Athalia. "It's only because they've been tattooed by that one person and now they're traumatised. There are other artists that tattoo completely differently. You'll feel nothing different, but it heals correctly."
Athalia's advice? "Ask for pictures after someone's tattoo is healed. You'll know from healed pictures how they tattoo."
"If you're still unsure, just book a little consultation," says Lord. "Sit with them for 10-15 minutes and you'll get a feel of the shop, of their attitude towards you and the work you're asking for. Most of your questions can be answered before ink has even touched your skin."
Until recently, the prospect of clean, neat tattoos cascading along my skin was reserved for daydreams and deep sleeps. Finding out that one day, I can wake up to them, too? Let me book a session, real quick.
---
Header images: left, hand tattoo by Lord Montana-Blue, right, geometric line tattoo by Athalia Johnson.

More from black ballad on arts & culture