This article is sponsored by Better Health.
For many women, the government restrictions have not only been challenging mentally, but also physically. Those who are regulars in the gym have had to find alternative ways to focus their energy and keep active, while others who had previously struggled to exercise have had to seek new ways to get active.
I spoke to four women from across the UK about the alternative exercises they have taken up during the government restrictions.
Nineteen-year-old Mary-Anne from Edinburgh had perceived hula-hooping as yet another Tik-Tok trend, until she was introduced to it by her sister who had started seeing results after taking it up. This convinced her to try it as a regular form of exercise.
"I found myself feeling intimidated at the gym and YouTube workouts got boring and repetitive," Mary-Anne says.
Hula-hooping made exercising more enjoyable for Mary-Anne and she has been reaping the physical benefits, such as a good sense of balance. She also mentioned that when hula-hooping, "you feel it in your legs and thighs".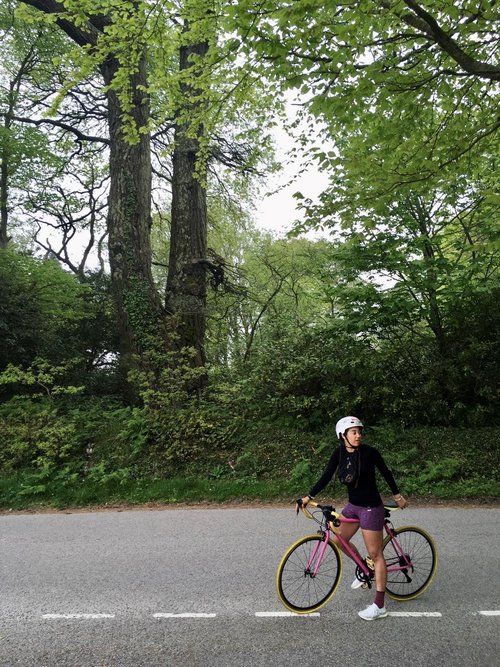 Chloë, aged 27 who is originally from Cornwall and now based in Leeds, started cycling from an early age but stopped during her teenage years. She was then re-introduced to it by a friend and began cycling for ten miles as part of her hour of outdoor exercise during lockdown. This also made her realise that she could use cycling as a means of convenience, as she is able to cycle to and from work.
"Cycling during lockdown allowed me to see Cornwall in a completely different way," she says. "It's also a great way to keep active and boost your mood."
Chloë uses an app that allows her to see her daily fitness progress as well as the progress of her friends, which gives her a reason to keep going. Some of the benefits of cycling for Chloë's wellbeing have been feeling freer, spending less time on her phone and connecting a lot more with her environment. She has also noticed improvements in her leg strength and overall fitness when she tries other sports like surfing.
Tosin, 27 and from London, describes herself as "moderately fit" before lockdown due to her athletic background as both a competitive and synchronised swimmer. She initially started doing yoga from 2017 to 2018 before returning to it in 2020, and she created an Instagram page around the same time to keep herself accountable. Now Tosin is using the instagram account to encourage other women to take up yoga as well.
Yoga has exposed Tosin to many online communities for black women who are equally passionate, such as Sisters Of Yoga and Black Girl Yoga who have given her a support system.
"With yoga there is no end goal, you just keep going and going. It's great for me as it helps build your mental and physical strength," Tosin says, noting that yoga has been instrumental during lockdown because it challenges her every day to push herself more than she did the day before. She also finds that the intimacy and introspection yoga provides gives her a sense of both realisation and affirmation, and the tools learned on the mat can be applied in real life.
Thirty-four-year-old Letisha from Birmingham uses dance as her daily form of exercise. She didn't have a consistent exercising routine prior to lockdown or a fitness background, but danced as a child.
Letisha has been attending weekly dance fitness classes on Zoom and is due to resume in-person classes when restrictions are lifted. Letisha finds this enjoyable as she is able to get her daily dose of exercise alongside music that she enjoys.
Our mindset and approaches to fitness determines how much we'll get out of it, as we often limit ourselves. But these four women are great examples of how we can stay active and make the best out of an unideal situation.
It is important for us all to stay active while we're at home and this could begin with setting up daily exercise schedules and adapting habits that will contribute to our health, such as adjusting our daily routines, walking more or even moving around in the house every so often. The NHS recommends for us to partake in a physical activity for at least 20 to 30 minutes a day. Hobbies such as DIY and gardening are also a great way of staying active, and give us a sense of accomplishment whilst doing the things that we enjoy. The NHS Better Health website has more tips on staying active at home.
When I asked for advice for those considering alternative forms of exercise, Letisha said, "Just go for it!", adding that dancing at home has been a great confidence booster.
Mary-Anne said to "give new activities enough time to adjust [and] be open to exploring other options until you find the right form of exercise for you." Chloë advised that "beginners should cycle in the mornings when there are fewer cars around." Also padded shorts are very necessary for comfort while cycling!
Finally Tosin said: "The little wins add up and those who don't believe they can, are the perfect candidates for [yoga]. Take it one step at a time."
More stories about black women and health