As they say, health is wealth! As you know, Black Ballad is passionate about ensuring that black women have knowledge and confidence to advocate for their health.
So in order to continue on our mission to help black women have the best health possible, we have partnered with the Eve Appeal, the UK's leading charity on research and raising awareness on gynaecological cancers. Because lets face it, we know the disparities that exist between black women and white women when it comes to our gynaecological health because of the biases that still exist in the healthcare system.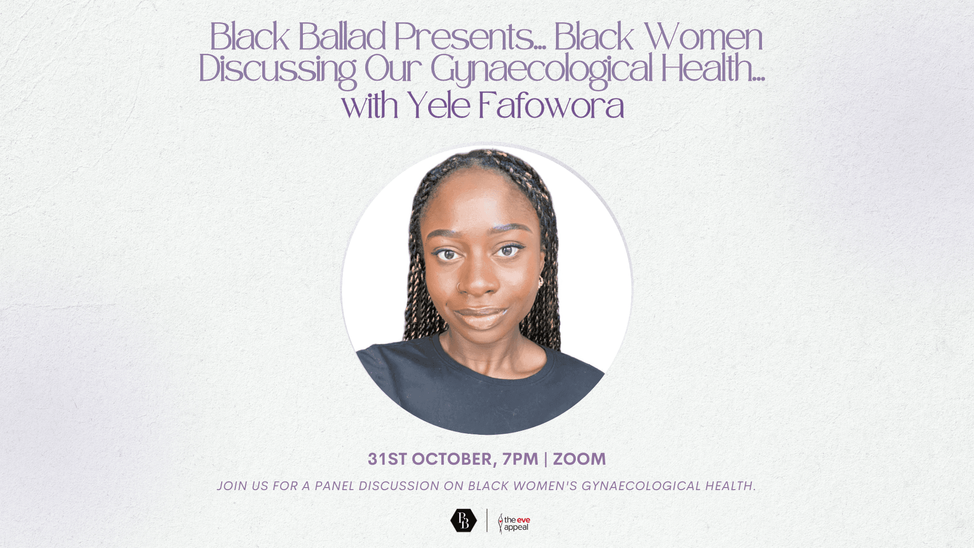 Black Ballad Presents... Black Women Discussing Our Gynaecological Health will be a BB Members only, free event on ZOOM (we want to ensure as many Black Ballad members across the country and around the world- hey all the international BB members!) have access to the knowledge and practical information that prove crucial for you or another black woman you love in the future.
The session, taking place on Tuesday 31st October at 7pm, will be hosted by Yele Fafowora, the SME/Programme Engagement Lead for the Eve Appeal. In the session Yele will walk us through the five gynaecological cancers, explain the normal body and what gynae red flags you should look for in your body to give you the confidence to speak to your doctor. We will also discuss the disproportionate prevalence of womb cancer in black women and people and the need for ethnic inclusivity and diversity in gynae cancer research. Finally, we'll be reviewing a a checklist of how to make the most of your gynae appointment, plus make time for breakout sessions to facilitate smaller discussions.
While all of the events we organise are to help black women live their best lives, events like this with partners like the Eve Appeal are critical in ensuing that we do that we live up this promise.
---
Please note:

👩🏾‍⚕️ Black Women Discussing Our Gynaecological Health is a BB Members Perk, so entry will only be available to individuals with an active BB Membership at the time they acquire a ticket.

👩🏿 Only one ticket is available per membership.

💌 BB Members have access to event tickets via a promocode sent via email, or the Black Ballad website

🎟 Tickets are available to acquire from now until 31st October at 4pm.

🩺 Need help? Email us at [email protected]
What You Need To Do Next
Tickets for this BB Members Perk are now available. If you can see this message, then that means you are not currently listed as a Black Ballad member. If you want to change that & attend Black Ballad Presents... Black Women Discussing Our Gynaecological Health, you have until Tuesday 31st October at 4pm to become a Black Ballad member.