We all know that now more than ever, it is important to take care of our money. With the new year looming and one of the most challenging years in recent memory moving to the rearview mirror, it's a pretty safe bet many of us will make some kind of commitment to have a better financial year in 2024.
But why wait until the new year? Bola Sol, the author, Grazia's Money Columnist & qualified Financial Adviser is hosting her Masterclass Making Money Work For Her and is giving 10 BB Members free tickets to attend!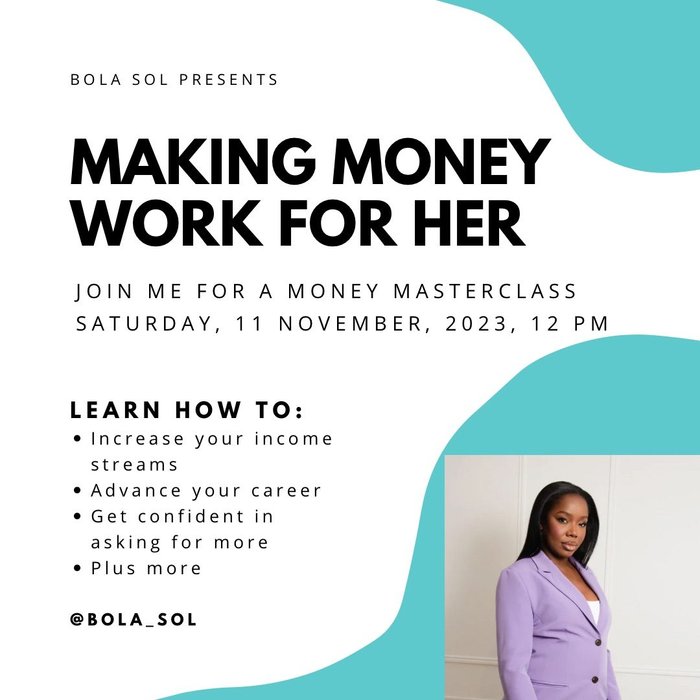 The masterclass, taking place midday on 11th November at LSE Bankside House, is designed to help women unlock your financial power. From building the confidence to ask for more, to developing your goals and action plans, Making Money Work For Her will give you the kick start you need towards achieving your financial goals
For this BB Members Perk, we are looking for 10 BB Members who:
🎟 Will be available to get to LSE Bankside House on Saturday 11th November at 12pm
💷 Are committed to improving their financial future
👸🏾 Are of course, Black Ballad members
***
Please note:
💪🏾 This a BB Members Perk, so only those with an active BB Membership are eligible to sign up.
💪🏿 Applications for this BB Members Perk will close on Tuesday 31st October at 23:59
💪🏽 Please note that being a Black Ballad Member does not guarantee you free tickets. Winners will be chosen at via a random number generator on Wednesday 1st November.
Unfortunately, this BB Perk has ended. Visit Black Ballad Perks for up-to-date information about our current perks.
What You Need To Do Next
Become a Black Ballad Member and get exclusive access to free products, events, experiences and more that help black women live their best lives
If you are already a BB member, log in to your account, so you can see the correct information, then return back to this page.
If logging in didn't work, email us at [email protected].