This event is now SOLD OUT
---
Every good book has a love story at the heart of it right? Well, it depends on what types of books tickle your fancy.

However, if you are the type of person that loves a good love story, then Bolu Babalola's debut book, Love In Colour is for you.

The writer and one of the wittiest women on the internet will be in conversation with our Head of Editorial and book lover, Jendella Benson, to discuss her collection of short stories. The pair will discuss Bolu's literary journey, why she is retelling classic stories and what love means to her. The pair will also be digging deep into a few of the stories that Bolu has written in the book!
We can't express how excited and honoured we feel to be in conversation with one of the finest writers we know and how much joy this book has bought to team BB already. And it's great to know that Bolu shares our sentiment in "looking forward to having a conversation with a community of brilliant, sharp women who get it, for us, by us".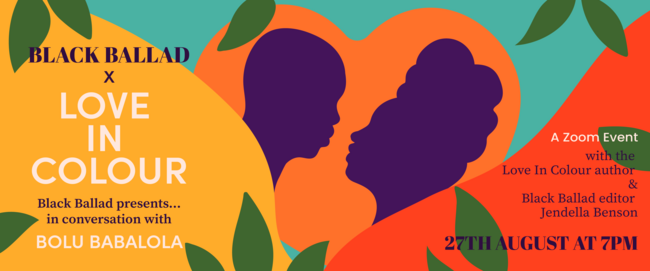 Tickets for this event are now live and can be bought here. Of course, Black Ballad members will get discounted tickets to the event, but everyone will get the chance to buy Bolu's book (a signed copy!) and receive a free tote bag in time for the event. Just select that ticket option upon purchase and to ensure your book arrives on time, please order your ticket and book by 15th August and complete the order form with your correct shipping address.
Black Ballad members can access their discounted tickets via the link in the email you received about the event. If you're a paying member and have not received an email about this, or if you are a new member and want to get your discounted ticket, please let us know via email - info@blackballad.co.uk
Prices for tickets which include pre-ordering the book are:
- Black Ballad premium members: £22.00
- Black Ballad members: £24.50
- General admission: £27.00
If you've already preordered the book, prices for only the ticket are:
- Black Ballad premium members: £5.00
- Black Ballad members: £7.50
- General admission: £10.00
---

If you were already thinking about becoming a Black Ballad member, now is a perfect time to join! Buy your event ticket along with three months' Black Ballad membership at 50% off.

- General Admission + Book Pre-order + 3 months BB membership (worth £15 alone) : £34.50
- General Admission + Book Pre-order + 3 months BB premium membership (worth £21 alone): £37.50
- General Admission + 3 months BB membership (worth £15 alone) : £17.50
- General Admission + 3 months BB premium membership (worth £21 alone): £20.50