Whether you're a mother, thinking about having children, or perhaps considering pregnancy as an abstract possibility in the distant future – we don't talk about sex, motherhood and our gynaecological health enough...
This wide ranging conversation will cover all our gynae and sex-related concerns from planning a pregnancy through to sex after childbirth, including what can and should be expected in terms of care before, during and after pregnancy.
Join our Head of Editorial Jeni Benson in conversation with Dr. Annabel Sowemimo, Founder and Co-Director of Decolonising Contraception and Dr. Zainab Sanusi.
Submit your questions beforehand by emailing hello@blackballad.co.uk, and there will be time to ask additional questions at the end of the session.
Decolonising Contraception are paying it forward tickets for those who cannot afford the general admission cost. If you would like to receive one of these tickets, please email hello@blackballad.co.uk.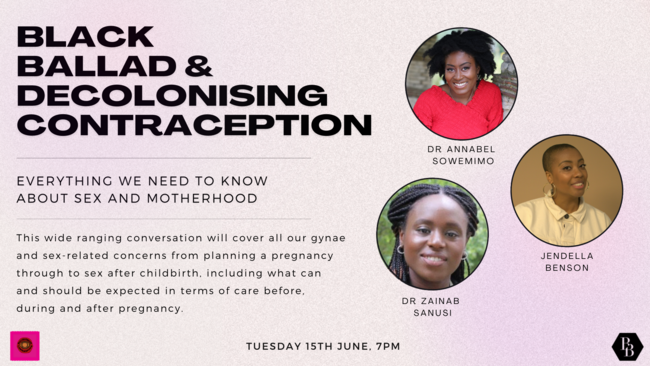 About Decolonising Contraception
Decolonising Contraception is a not for profit, community interest company formed by Black and people of colour working in sexual and reproductive health (SRH). They came together in 2018 to increase awareness about the colonial influences on our practice.
They believe that decolonising is not just an academic idea but a solution in helping address the huge health inequalities present in SRH.
This webinar is free for all Black Ballad members and £5 for friends of Black Ballad & Decolonising Contraception.