Hair. It is a huge part of our identity as black women, and while society has turned it into arguably the most political part of our identity, for many of us, hair is a vessel to express ourselves. And for some of us, hair has become a form of self-care as we care for strands with our favorite products.
Whether you see your hair as a vessel of self-expression, self-care, or even if you don't give your hair as much time, care, and attention as you would like to, our next event is for you. Black Ballad and Untype Salon presents... The Cornrow Classes.
On Saturday, 9th December, we have not one, not two, but three classes to help you take care of your hair and the hair of the little people in your lives!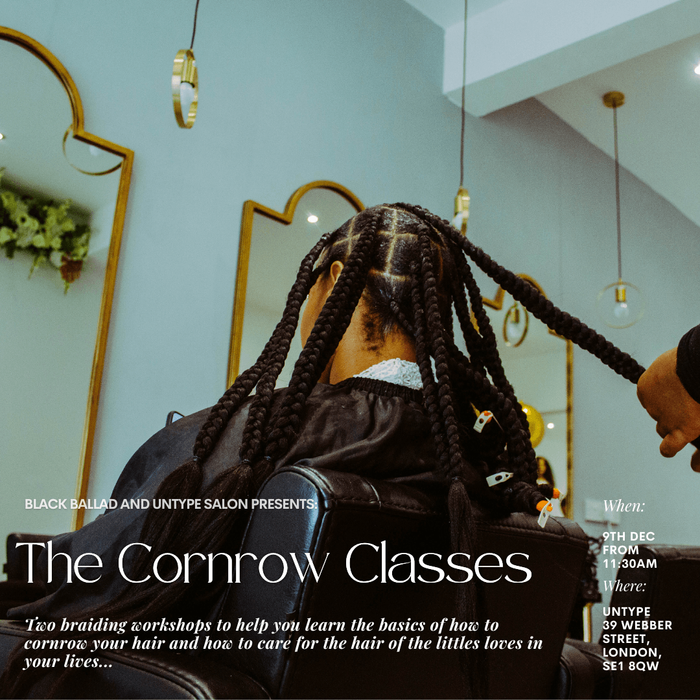 🪮 The first class, starting at 12pm, is all about taking care of your children's hair. Ebuni will give you practical skills to help you style your little one's hair in ways that don't damage your child's edges and hair follicles. This session is beginner-friendly, so you don't have to know a thing about caring for your child's hair. Plus, you can either bring your child, or practice on a mannequin!
🪮 The other two classes, at 3pm & 5:30pm, are our Adult's cornrow classes, where you will learn the basic technique of how to cornrow your hair so you'll be ready to face the winter months with the ability to do arguably the most essential hairstyle for our curls and coils.
All three classes will be taught by Untype's founder, Ebuni Ajiduah, an award-winning trichologist and hairstylist. Ebuni's vision for Untype is for the salon to provide a safe and welcoming space for Black women. So you won't be in better hands to learn the basics of hair care.
Untype is a modern and innovative Afro-textured hair salon located in Central London. With a focus on hair health and expert solutions to prevent hair loss, Untype offers trichology consultations, styling services, and collaborative space for freelancers and session stylists. Led by award-winning trichologist and hairstylist Ebuni Ajiduah, Untype is dedicated to empowering clients and fostering a positive impact in the Afro hair community.
***
Black Ballad and Untype Salon presents... The Cornrow Classes will be small, intimate sessions, with BB Members having priority pricing.
Tickets
🎟 BB Premium Members Ticket - £25
🎟 BB Standard Members Ticket - £30
🎟 General Admission Ticket - £40
🎟 General Admission Ticket + BB Standard Membership Bundle - £47.50
🎟 General Admission Ticket + BB Premium Membership Bundle - £50.50
Please note:
🎟 Tickets are limited and are available on a first come, first serve basis
👸🏾 BB Members have access to discounted tickets to this event via Members Only links & promocodes sent via email. Don't have your members links.
🪮 For the children's class, you can choose to bring your child or do the workshop on a mannequin
🩺 Need help? Email us at [email protected]