Join Jendella in conversation with Rosanna Amaka, the author of The Book of Echoes, to discuss the resilience of African diasporic histories, her journey to publishing and writing stories that captivate and reverberate through the ages.
Tickets include a copy of The Book of Echoes signed by Rosanna and sent to a UK address. To get your copy of the book in time for the event, please purchase your ticket by 8th July 2021.
About The Book of Echoes
A sweeping, uplifting story of how a boy from Brixton and a girl from Lagos escape their dark past to find themselves a bright future.
1981: England looks forward to a new decade. But on the streets of Brixton, it's hard to hold onto your dreams, especially if you are a young black man. Racial tensions rumble, and now Michael Watson might land in jail for a crime he did not commit.
Thousands of miles away, village girl Ngozi abandons her orange stall for the chance to work as a maid. Alone in a big city, Ngozi's fortunes turn dark and soon both her heart and hopes are shattered.
From dusty roads to gritty pavements, Ngozi and Michael's journey towards a better life is strewn with heartache and injustice. When they finally collide, their lives will be transformed for ever.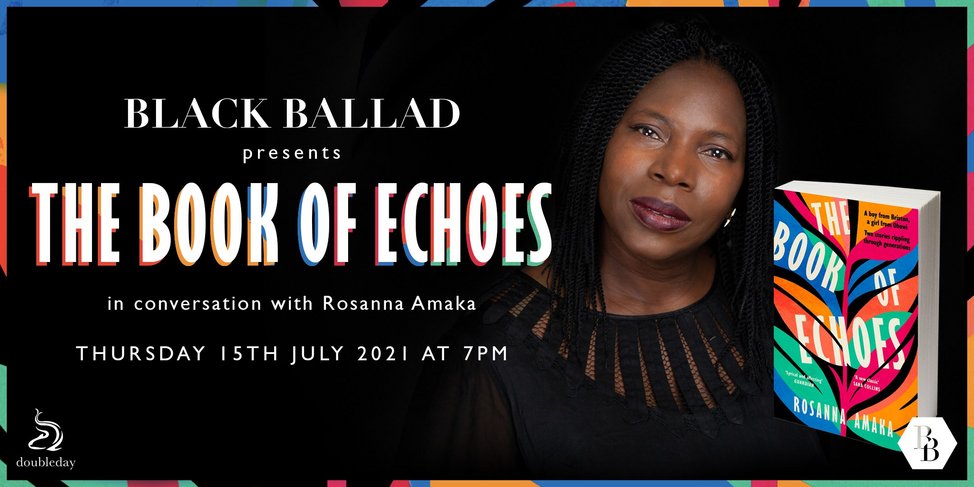 About Rosanna
Rosanna Amaka was born to African and Caribbean parents. She began writing The Book of Echoes twenty years ago to give voice to the Brixton community in which she grew up. Her community was fast disappearing - as a result of gentrification, emigration back to the Caribbean and Africa, or simply with the passing away of the older generation. Its depiction of unimaginable pain redeemed by love and hope was also inspired by a wish to understand the impact of history on present-day lives.
What people are saying about the book
'A searing, rhapsodic novel. The Book of Echoes is filled with beauty, devastation and the power of ancestral connections that ripple through the ages' – Irenosen Okojie
'So bewitching I almost felt like I time-travelled back into Brixton 1981. A gorgeous book – totally recommended.' – Alex Wheatle
See past author conversations from black ballad