How do black women break into an industry that is notoriously inaccessible for those who are not white and middle class?
To answer this, we've collaborated with Nancy Adimora (HarperCollins & AFREADA) to host: How Black Women Get Published - a virtual frank conversation with our head of editorial Jendella Benson about black women and the current literary landscape in the UK.

Nancy Adimora is the Talent & Audience Development Manager at HarperCollins Publishers, and the Founding Editor of AFREADA, an African literary magazine.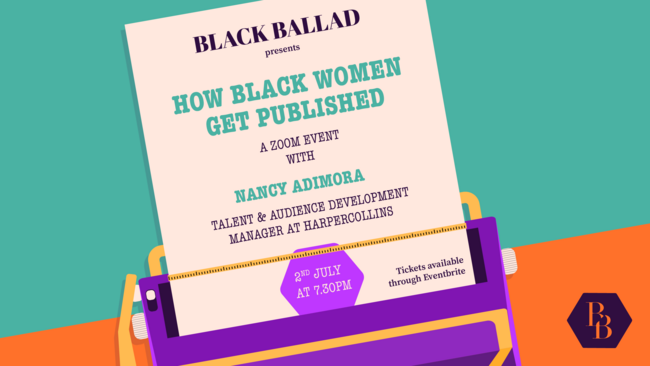 Tickets for this event are now live and can be bought here. This Black Ballad event is open to all black women, with preferred pricing for Black Ballad members. If you are a paying Black Ballad member and have not received an email about this, or if you are a new member and want to get your discounted ticket, let us know via email - info@blackballad.co.uk:

- Black Ballad premium members: £3.00
- Black Ballad members: £5.00
- General admission: £7.00

If you were already thinking about becoming a Black Ballad member, now is a perfect time to join! Buy your event ticket along with three months' Black Ballad membership at 50% off.

- General Admission + 3 months BB membership (worth £15) : £14.50
- General Admission + 3 months BB premium membership (worth £21): £17.50